Unless you have been under a rock for the last good knows how many months, I am sure you have heard lots about
Cocoa Brown.
I was kindly send tough stuff body scrub which I already used, and a bottle of Lovely Legs instant tan and tanning mitt.
Tough Stuff*
Without doubt one of the best body scrubs that I have ever used. AND IT'S PINK!! I get very flaky patches on my legs and elbows and when I use this as part of my body care routine I see a difference immediately.
Lovely Legs*
Lovely legs is the most recent tanning product that Cocoa Brown have launch. Lovely legs is an instant tanning product that shows 'tan' straight away. I was really surprised at how powdery Lovely legs is. in the past when I have used instant tanning products they have been gel or mousse. The powdery element to lovely legs leaves a lovely soft, smooth feeling that reminds me almost of loose face powder.
I have to admit, self tanning scares the bejeezus out of me. In the past I have always ended up streaky and patchy with 'tan hands' hand. Which I am sure you will agree isn't attractive!
I was really happy with how this applied. As it is an instant tan you can apply it without worrying if streaks are going to appear as it develops.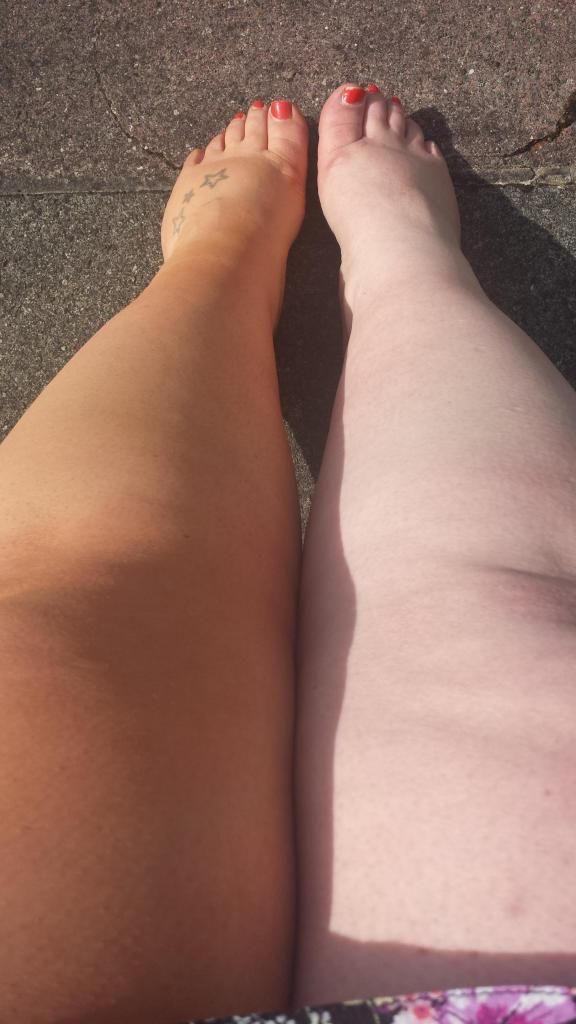 As you can see, I have extremely pale skin. In fact I am almost see through. The lovely legs I was sent was medium brown, and to be honest it is properly a bit dark for me. However, it is amazing!
I would definitely purchase this myself. I am even tempted to be brave and try the longer lasting 1 hour tan.
What do you think?